Remember this kitchen from Southern Living?
There's been a little talk in the design blogsphere (
here, for example
) about what has happened to Southern Living in recent months. They've been featuring spaces that probably wouldn't have made it into other magazines. Perhaps they are trying to show more variety to appeal to a broader audience, but while picking up some new readers, they seem to be leaving some wondering about the changes.
Case in point, this
Charlottesville kitchen that was featured in the December 2010 issue
.
Images from SouthernLiving.com
Notice the round spice rack hanging by the range and the wine cubbies.
To be frank, I was surprised this kitchen was in Charlottesville when I saw it. I thought it might be in the mountains in Tennessee or North Carolina. I was also surprised that I hadn't read about this locally. It seems that national magazines have been spending quite a bit of time in Cville these days. In fact, there's a Charlottesville homeowner on the last page of Better Homes & Gardens this month showing off her painted dining room floor (awesome). I know a local blogger who will be in a future BHG issue, too.
Anyway, the home with the rustic kitchen
just went up on the MLS
for $1,695,000. Clicking through the pictures to check out the rest of the house was fascinating. I await your comments...
Isn't that beautiful? This seems to be the entrance used by the family, which leads to the mud room (see below...it's pretty amazing). It's not the main entrance to the home.

This is the main entrance.
That beautiful door might need a little love...and maybe a second set of hardware?

A first floor hallway. I think there are four tables in this one little area.
It's begging for a little staging, isn't it?

Next, that kitchen that inspired some raves and some critiques...

I think it looks much lighter than it did in Southern Living.
Maybe it's the ginormous skylight.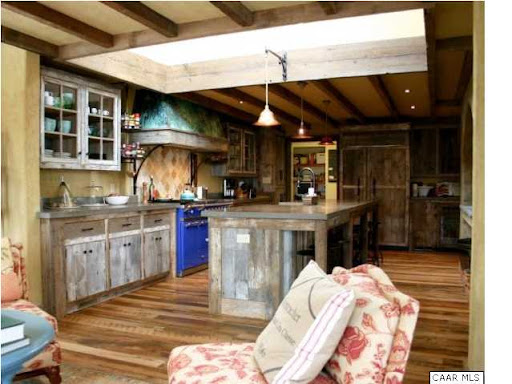 I know some people think antlers are over, but they'll always be in style in hunt country.

Okay. Hold up. I'm no real estate agent, but you'd think that if you were trying to sell a $1.7 million home, you wouldn't bother posting this photo or you'd revisit the home to take a better picture. Maybe the intent was to show the view, but I find myself peering at the sofa and pillows instead of looking out the window. This isn't helping the family sell their house.
This family has

seven

children in it, aged 15 to a few months old. Pretty amazing, huh?
This must be the kid zone. I guess when you have seven kids, you need spaces like this. Points for being dog lovers.
Here's the mudroom/locker room I mentioned above.


The mud room isn't just for the kids...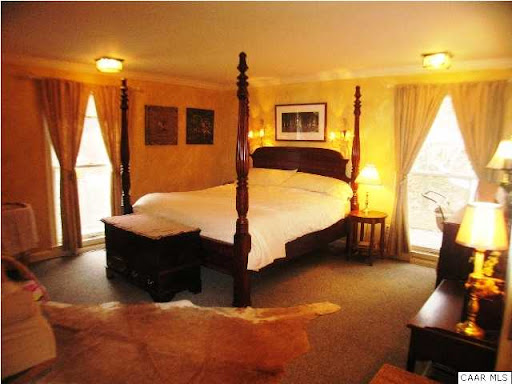 It's a beautiful home...but I think they need a professional photographer (there are quite a few local photogs who are great with interiors) or at least a reshoot of these images. I don't think the MLS photos do the house justice.

What do you think? I almost sent this to
Julia at Hooked on Houses
because
she loves to post about MLS photos