Cville Design House: Time for a Tour
The 2011 Charlottesville Design House is still a few months away, but there is a lot of news about the project. A few weeks ago,
the various options for the house were discussed and debated
. A beautiful, older
house on a large property outside of town was chosen
by the
SHE
Charlottesville Design House committee.
Now, it's time for a little tour of the house. These are all MLS pictures. The home is off the market now and we'll have more "candid" before pictures next month after the "Hard Hat Tour" (
which you can go on*
).
The house is beautiful. There are thick moldings throughout, nice casings on the doors, and wainscoting all over the place.

There's a bit of chintz. Scratch that. There's a lot of chintz.

It has a quality that's sort of Traditional Home-ish, doesn't it?
More chintz.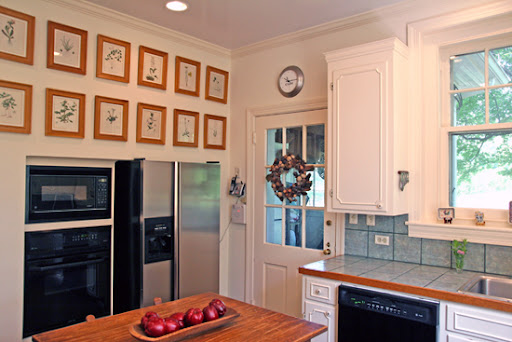 This kitchen was hot stuff at some point.
Or maybe it's Southern Accents-ish?

Notice that the bedrooms have patio doors, but they are blocked by furniture.


Love the double twin beds.
There are plenty more rooms to see...I'm not going to show you everything just yet.

*Let's talk about that Hard Hat Tour. In March, there's going to be an informal tour of the entire property for anyone who wants to see the entire house before the place gets turned over to the designers. I'll be posting information about that event and how to attend in a few weeks.
Check back next Thursday for another update.
Oh wait! Want to see a couple pictures of the grounds?