My take on "What I Wore" blogs
I have to admit that "What I Wore" type blogs only made it onto my radar screen about year ago, when a few design bloggers either made references to them or started posting pictures of themselves with descriptions of the clothing items they wore. There was one blog (I don't remember the name) written by a young woman that showed pictures of her all over New York City wearing designer clothes. The word in the blogsphere was that the clothes were given to her, her boyfriend took the pictures, and she had a book deal in the works. This was her job. She was a model who had never worked a traditional modeling job.

When I started to see the "What I Wore" blogs, I had to laugh. First of all, my wardrobe is pretty much free of trendy pieces. I have an office job. I work in academia, but I'm still in an office for a traditional work day. One can't sashay around in over the knee boots and leggings here. By the way, did anyone notice stirrup pants in the windows of Gap stores this month? Ridiculous!

Now, just for fun, here is my week (so far) of "What I Wore" for all of the office dwellers out there.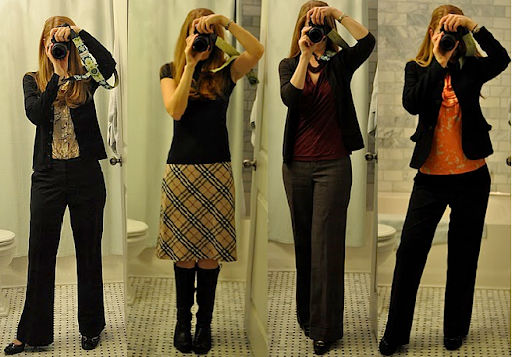 Monday: Banana Republic pants & cardigan, J. Crew shirt, Franco Sarto heels
Tuesday: Ann Taylor top, Burberry skirt (I lived in Boston, remember?), Banana Republic boots
Wednesday: Ann Taylor cardigan, Banana Republic top and pants, Stuart Weitzman heels
Thursday: J. Crew blazer, pants, and sleeveless top, Stuart Weitzman flats
I imagine the little fashion bloggers would think "
OMG! Not a stitch of clothing from Anthro. There's, like, a lot of black and she's wearing a suit. Ick.
"
Had these blogs been around when I was in my early 20s, I imagine I would have been all over them. Many of the fashion bloggers seem to be young and the clothes they wear point to them either not working or working outside a traditional office. They rave about Olivia Palermo. They love and/or belittle actresses on Gossip Girl while aspiring to be like the characters they play. They probably think my excitement for paint and color trends is totally bizarre.
Kudos to the fashion bloggers (
like this one
) who are a bit down to earth. I know there are more out there.
Do you read any of those "What I Wore" blogs? What do you think of them?