My [almost] Good Citizen
Design blogger friends, please forgive this deviation from the usual.

About two years ago, someone told me that Baxter would be a good "therapy" dog. I didn't really understand...I thought "therapy dogs" were dogs that lived with people with disabilities, like my neighbor who is in a wheel chair has a black lab assist him. I found out that there's a difference between a service dog (my neighbor's dog) and a therapy dog. There's a whole corps of therapy dogs out there who visit hospitals, schools, and nursing homes for various forms of therapy. I thought it was a great idea, but I put it aside. Between my job and doing rescue work with
SEVA GRREAT
, the regional golden retriever rescue, I thought my plate was full.
Almost daily, though, I'd have a little reminder that Baxter might get as much out of therapy work as the people he'd visit.
Meeting some children at Fridays After Five, Charlottesville's weekly free concert series
Stopping to see the woman who worked at the stand where I sometimes buy coffee
Quite possibly Baxter's favorite place on earth, the wait staff stand at Siips Wine Bar
(everyone at this restaurant loves dogs and they always seem to have treats)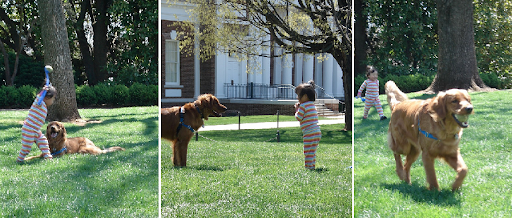 Making a friend on The Lawn at UVa
Okay, so Baxter likes people who like dogs. Most dogs do. But last Christmas, I noticed how patient he was with my nephews, who don't always play gently or quietly, and started thinking about therapy work again. One of my nephews was a little scared of Baxter, who laid down on his side to be a little more approachable. I was so proud.


For the last month, Baxter and I have been going to classes at Charlottesville's
Canine Campus
to prepare for the
AKC's Canine Good Citizen
test. At first, I wasn't sure he would make it...Baxter isn't high strung, but he's a very well socialized and curious dog. He assumed that a large space + a group of dogs = time to play. After the first class, he settled down and started working.
By the third class, Marc mentioned that he noticed a difference in Baxter. He was starting to look to me for direction when approaching something exciting (like Siips Wine Bar) instead of just making a move in the direction he wanted to go. The drills during class and all my practice sessions at home were working!
Last night, Baxter took his Canine Good Citizen test. To be frank, I don't care about the certification because there's a far more important test that will certify Baxter to be an official therapy dog. But, the CGC test was good practice. We missed two out of the ten elements, mostly due to my nerves.
So, Baxter is *almost* a Canine Good Citizen. Our next step is to take a more advanced therapy dog class and then "sit" (ha ha) for the more rigorous
Delta Society
exam.