Designer spotlight: Gibson Design Group
I'm getting so excited for the
Cville Design House
and the progress about which Alexandra Gibson of
Gibson Design Group
has been
tweeting
that I contacted her to get a little more information about what she's up to. Alexandra joked that she is "a Gibson, but not THE Gibson." Andrea Gibson, her mother, is the President of the company.

The Gibson team is working on the dining room at the show house. I don't have a before picture of the room, but I do have the 3D rendering Gibson Design Group did to show what the plan would be.
I saw the "in progress" pictures Alexandra tweeted before I saw this rendering...and I had to inspect it to make sure it wasn't an "after" picture. Isn't that a fantastic mock up? Compare it to the tweeted photos: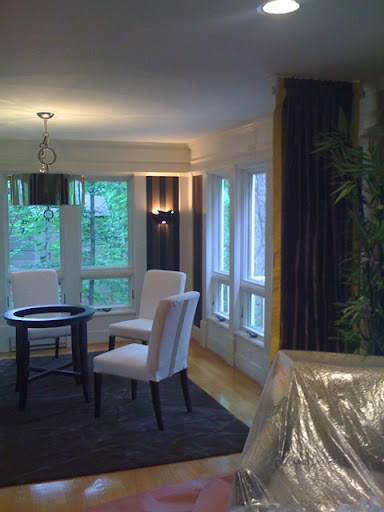 Wow.
See the drapery panels on the sides? Alexandra said that "Because the dining room is not closed off, but is directly connected to the living room, we designed silk portieres (or side panels) to hang on either side of the opening. The room is virtually square, which welcomed a round glass table and symmetry throughout." I think they define the space nicely and make it a little more intimate.
She revealed that the light fixture was provided by
The Shade Shop
, the wallpaper is by
Osborne and Little
, and the
Odegard
showroom in the
Washington Design Center
loaned them the wool and silk rug. There's a reason no high heels are allowed in the house...some of floor coverings are pretty special. I gulped when I found out that the rug in the room normally retails for $8,000.
The plan for the chairs is one I'm sure plenty of bloggers will want to adopt. They took Ikea chairs and had
Samuel and Sons
trim attached to the back of the slipcovers to make them a little more interesting.