CSN Giveaway winner!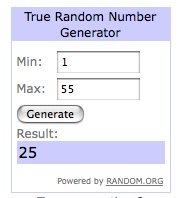 When I first started reading design blogs, I was pretty suspicious of Random.org, the number generator most bloggers use to pick giveaway winners. I never, ever won. Now, I was entering every giveaway under the sun on very popular blogs, so that made total sense. These days, I don't enter many giveaways...just ones where I really like the prize and on blogs that I read daily. I've won some nice things and also feel as though I see blog "friends" winning, too!
Add another friend to the list of winners! Ada-Marie, the Richmond blogger behind
Spark!
is the winner of my CSN giveaway!
She said she might put her $60 prize towards this console table:

Congratulations, Ada-Marie! I'll be emailing CSN with your information shortly!