Craigslist finds: the college move-out edition
It's been a while since I did a post about Craigslist finds. With thousands of college students moving out of their apartments this week, it's an idea time to find a deal on the site. If you live in a college time and are in the market for some pieces, get onto Craigslist. Some of what I've found is perfect as is and some items could use a paint job.
1.
Painted dresser and mirror
- $40
I think I'd go lighter than red for this. You'll probably spend more on painting supplies than on the actual dresser.
2.
Desk lamp
- $5
I'm no expert, but this looks like it could be a vintage Stiffel Bouillotte lamp.
3.
Ikea shelving
- $25
Okay, it's Ikea, but it's $25, already assembled, and doesn't require a two hour drive to Woodbridge.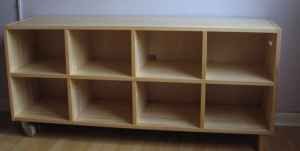 4.
Stacking Cubes
- $40
This is my favorite listing of all. With a little paint, these could look fantastic! They remind me of
tables for sale at West Elm right now
.
5. "
Lovely antique looking chair
" - $25
The picture is tiny, but you can see that there's potential here. I'd paint that wood and reupholster the seat with a fun, fresh fabric. This would be an awesome Saturday project.
Get out there and help these college kids empty their apartments!