Are you following the light? (giveaway info inside!)
*I haven't been asked to write this. I just surprised more people aren't entering this contest!*

The Traveling Light at Novel.
For the last seven weeks, the store that is arguable the best lighting shop in the area has been
holding a give away
. A beautiful, turquoise lamp by
Arteriors
has been planted by
The Shade Shop
at stores all around Charlottesville. If you spot it, snap a picture, and tweet it, you get entered to win it. For those who aren't able to follow it around, simply commenting on
The Shade Shop's blog
entry about the week's location earns an entry.
When I look at
the returns for a Twitter search for #TravelingLight
(the tag you are supposed to use to enter), I'm surprised that there aren't more entries. There are more entries on the blog, but there could be many more.
I know you might think I'm silly for encouraging people to enter since it lessens my chances of winning, but I've had a lot of fun on this design scavenger hunt of sorts and think others should be playing, too.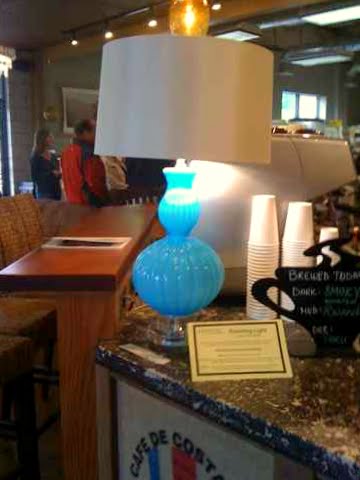 I stumbled upon the lamp while getting coffee at Shenandoah Joe's